Which Is Better: Paid or Free Software?
1
Walter Glenn
ProfileFollowUnfollow

Walter GlennFiled to: Flame Wars
software
free software
open source
7/18/13 11:00am
Edit
Delete
Invite
Invite manually
Promote
XDismissXUndismiss
Block for lifehacker
Hide
Share to Kinja
Share to Facebook
Share to Pinterest
Share to Twitter
Go to permalink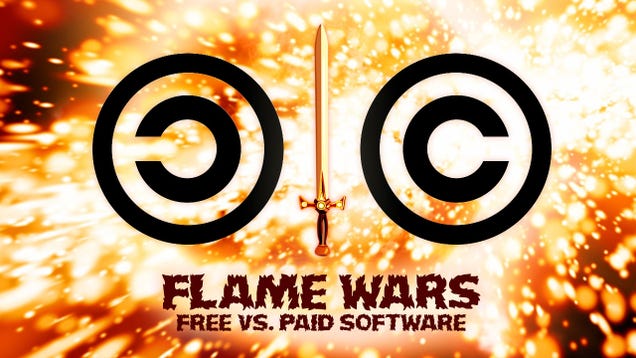 Though both have their advantages, the battle between paid and free software continues to rage. Now, we want to hear your opinion. And make it count, because we'll be posting a follow-up article next week with the best arguments on both sides.
What We're Looking For
Our last two flame wars were so much fun, we're firing up another one, fellow life hackers! We hope to generate some fun discussions and take a solid look at both sides of the argument. Don your protective gear, take a preventative dose of not taking things too seriously, and jump right into the discussions below. Most of all—have fun! Just keep in mind that we're using the term "flame war" a little tongue-in-cheek: we'll actually be looking for the polite, well-reasoned, and well-articulated arguments to feature in our follow-up.

1 144Reply 144Discuss

#auto