The Five Best Password Managers

Alan Henry8/22/17 12:55pmFiled to: Hive Five
Password Managers
Passwords
Security
Keyring
Feature
dashlane
lastpass
privacy
roboform
keepass
1password
password management
25443
Edit
Send to Editors
Promote
Share to Kinja
Toggle Conversation tools
Go to permalink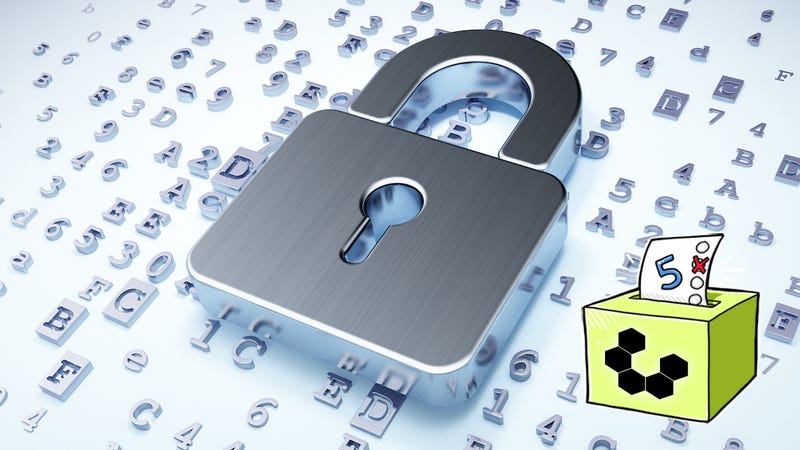 A while ago, all it took to be a great password manager was to keep your passwords in an encrypted vault. Now the best password managers give you the option to sync or keep them local only, change web passwords with a click, log in to sites for you, and more.
**This story originally ran in January, 2015, and was updated with additional reporting from Patrick Austin in August 2017.**
Advertisement
Back in 2015, we asked you to tell us which password managers you thought were the best, and pulled the five most popular options recommended by our readers. Since then, some have remained the same, some have updated their look, and some have undergone some pretty substantial changes, fundamentally altering the way they work and the features that appealed to users, for better or worse.
As we've discussed previously, the best password managers come with the flexibility to go single-device with no web or online components at all, or the option to sync across your devices. Some log into sites for you, others audit your passwords to make sure you're not using the same in too many places. All of them come with features designed to improve your security across the board, while offering their own kind of security to protect your data—yes, even if you have everything stored in one place.
Advertisement
You offered tons of great nominations, but we only have room for the top five—and we definitely had some leaders. Here are the best password managers you recommended, in no particular order.
LastPass
LastPass is clearly the juggernaut here, and for good reason. The service was one of the first well-rounded password managers available, and one of the first that really made it easy to store all of your passwords either online and synced with other computers and devices, or locally on one device. In short, LastPass remembers your passwords so you don't have to, and makes it easy to audit your passwords, use stronger passwords in general, and even automatically change a password for you if a service has been hacked or compromised. LastPass supports two-factor authentication for your password vault using Google Authenticator, USB devices (using a method we've outlined before), or a YubiKey. The service recently received a visual refresh to streamline the UI and make it easier to use, and sports a number of additional features like credit monitoring, secure password and document storage (and sharing), notifications when a site you have an account with has been hacked, tools to autofill forms and streamline online shopping, and more. LastPass supports Windows, macOS, Linux, Android, iOS, and Windows Phone, and has plugins for Chrome, Firefox, Safari, Opera, and Microsoft Edge.
While the company advises against it, you can download older versions of LastPass compatible with your device. LastPass is free to use on all your devices, including your smartphones, without imposing restrictions. For $24 a year, you can sign up for LastPass Premium. Premium features include priority customer support, 1GB of encrypted file storage (for sensitive info like scanned documents), Windows fingerprint reader support, and two-factor authentication either with a Yubikey or a thumb drive with Sesame.

LastPass' nomination thread was huge, with many of you showing your support for the app because it's made securing your online life easier in some shape or form. Many of you explained that you use LastPass so you don't use the same password on every site (which you absolutely shouldn't do), or so you don't have to write down passwords and risk losing them in a disaster, misplacing them, or accidentally letting someone else get a hold of them. Many of you praised LastPass' own security for keeping your data safe, and for—that one time they thought they may have been hacked—promptly locking everyone's data down, making sure they were in the clear, and encouraging users to take additional steps to protect themselves. If you want to learn more about LastPass, they stopped by to tell us the origin story behind the app, and you can read their nomination thread here.
---


Dashlane
Dashlane launched in beta back in 2012, debuted a UI refresh in 2016, and has since risen to prominence largely because of its attention to its interface (which is sharp and easy to use), simple security, easy auto-login, form auto-fill, and logging of purchases and orders from online shops. It's picked up a number of updates since then, including support for two-factor authentication, the ability to share passwords with emergency contacts in case you can't access your accounts, and the ability to change multiple passwords on dozens of websites with a few clicks. Dashlane will also notify you if you have an account on a site that's hacked, and with its built-in password changer, you can have Dashlane reset the password to a new, unique, strong one without leaving the interface. If you want to change all your passwords at once, you can do that too. The purchase tracking and digital wallet features make it easy to make online purchases even at retailers you don't have accounts with, and search all of your online orders in one place, while secure note and document sharing gives you a place to store passwords that can't be automatically filled in. Dashlane also gives you the option to store your passwords locally only in an encrypted vault (where only you have the master key), or to sync them to your devices and access them on the web. Dashlane supports Windows, macOS, Android, and iOS, and has plugins for Chrome, Firefox, Safari, and Internet Explorer. It's free to download and use, but if you want your passwords synced across devices, you'll need Dashlane Premium, at $40/yr.
Dashlane's nomination thread was also pretty popular, with many of you praising the tool for making password management simple and easy to do—almost an inviting task that you'll actually want to do, which is an accomplishment on its own. Making people actually want to take control of their security because the interface is easy enough to use is a big deal, and Dashlane's UI shows you right up front what your overall security "score" is, and gives you easy tips to improve it right then and there. Those of you who use it praised it for its seamless syncing, digital wallet, auto-fill across all of your devices, and its new multi-site password changer. It's not perfect though—a number of you noted that it's great...as long as you were grandfathered into its free plan (when syncing was still free), and noted that $40/yr was steep considering the competition is generally less and on-par feature-wise. You can read more in its nomination thread here.
---


KeePass
If free (as in speech and as in beer) and open source are your go-to requirements for a security product, KeePass is perfect for you. Your passwords in KeePass are stored inside an encrypted database that you control, on your own system, and are never synced or uploaded anywhere unless you want to take them from machine to machine. KeePass is also a portable app, meaning it's super easy to take with you and use on multiple computers, even if that machine is locked down and all you have is a thumb drive. It has its own password generator, to help you change passwords and make sure every one of them is unique and strong. Password databases in KeePass can also be configured with multiple keys so you can share access among privileged users, and exported in plain text for quick importing elsewhere (or backups). You can even create physical password keys in the form of thumb drives or CDs (even floppy disks if you want to go retro). Plus, KeePass has tons of third-party plugins and tools to extend its functionality and bring it to more devices, browsers, and platforms. Most notably, KeePass' auto-type functionality works in all windows and all browsers, which means that KeePass can log in to sites that other password managers can't, and can log in to applications, system dialogs, and other password prompts that you'd otherwise have to copy/paste a password into.
Advertisement
Several years ago, KeePass was your favorite password manager, largely because of that open-source approach and its user-controlled approach to security. KeePass officially supports Windows, macOS, and Linux, and there are unofficial (it is open source, after all!) ports with different features available for Windows, macOS, Linux, iOS, Android, and Windows Phone, including KeePass X, which earned its own nomination thread. This time around, those of you who nominated KeePass praised it for its offline access, strong encryption, and ability to log in to any password dialog that appears on your system, whether it's on the web or a network login somewhere. Many of you shared your KeePass configurations, with some of you using Dropbox to sync your encrypted vaults across devices, and others preferring to use KeePass for everything while using other tools for day-to-day logins. One of you specifically mentioned that it's great to be able to use the tool cross-platform, completely free, and keep a backup of your data on your own—all while being in complete control of your data and security. You can read more in its nomination thread here.
---


1Password
1Password is well-loved and well-regarded for offering a powerful and secure password manager and digital wallet in a really sharp-looking package that shines on every platform it runs on. It's flexible, easy to use, works seamlessly in just about every web browser, and packs in the same features that you've come to expect from a premium password manager and secure document storage tool. 1Password looks great, comes with a strong password generator to help you pick good passwords every time you change one, secure notes for other passwords or notes that you want to keep private, a digital wallet for bank accounts and payment info, and a password "recipe" builder that lets you customize your passwords to your demands instead of just accepting whatever algorithm the password generator spits out at you. Recently 1Password moved from a one-time purchase to a subscription based business model ($2.99 per month for an individual account, $4.99 per month for a family account supporting five people), and is now storing your encrypted password vault in its own cloud storage service. While it may be inconvenient for users who would prefer to locally store their files, according to engineers at 1Password's company AgileBits, it's more secure than syncing data with third-party storage options like iCloud and Dropbox. Older 1Password users can still use their cloud-synced vaults. If you're desperate for local vault storage, the company hasn't disabled it completely, and you can send them an email to discuss different vault storage options with a 1Password member. You can also set up an emergency kit as a safety net and share passwords with authorized users. You can even keep multiple vaults for different types of passwords. 1Password supports Windows, macOS, Android, and iOS, with plugins for Chrome, Firefox, Opera, and Safari. 
Those of you who nominated 1Password almost universally praised the app's interface and ease of use. Like some of the other password managers mentioned here, it's a joy to use, and it works seamlessly with multiple browsers, systems, windows, and other password dialogs. Most of you called out the "watchtower" feature, which notifies you of breaches around the web, and its support for TouchID on iOS. Many of you approved of the combination of local encryption and the option to sync when you want to, without talking to a central authority, while simultaneously looking great and being a well-developed product. Some of you dinged it because of the starter price—although it's a one time cost—but the overwhelming opinion is that 1Password is a premium application from a dedicated team of developers, and worth the price tag. If you're curious, you can read the story of 1Password here, or check out its nomination thread here.
---


Roboform 8
Roboform has been around a long time (since 1999), and has always had a large number of dedicated, die-hard users who've rallied around it, both as a great tool for form-autofill on the web, and as a password manager. Roboform also gives you the option to locally store encrypted passwords and data, or sync to the web and across devices if you choose to, but the choice is completely up to you. It supports multiple identities, so you can autofill form information based on different users, addresses, or any other mix-and-match of data you choose. You can also take RoboForm with you on a USB drive from computer to computer. The app's major update in 2011, Roboform 7, brought increased browser support, and delivered both online and offline password management options. In its latest iteration, Roboform 8, the app has gone through a slight interface refresh, and has made a variety of improvements. Its increased security by employing a new data storage file that is more secure than its previous data storage method, consolidated account information into a single Roboform Online account, and added support for sharing logins with others by sending an email. It's free version supports unlimited logins on a single device, so you can give it a whirl on your dekstop or smartphone if you're curious. . RoboForm also has bookmarking features to help you keep track of your favorite sites. RoboForm supports Windows, macOS, Linux, Android, and iOS, with plugins available for Chrome, Firefox, Safari, Microsoft Edge, and Opera. It's free to download and use on one device.. If you need more (and who wouldn't), or need to sync or access passwords on multiple devices, you'll need RoboForm Everywhere, which will set you back $20/yr for all of your devices and computers (and you get a break, it's only $10 for the first year).You can also snag a family account, giving five people access to Roboform Everywhere while paying a single subscription fee (one year will run you $40). 
Be sure you're ready to upgrade, though. Migrating your password data from Roboform 7 to Roboform 8 converts it into its newer, encrypted "One File" data storage system. You can't roll back the update. If you're a Roboform Everywhere user concerned you'll have to pay for the upgrade, don't fret. Roboform 8 will support your paid Roboform Everywhere subscription.
Advertisement
Those of you who nominated Roboform did so because of its long history of good security, utility, and because many of you felt the app was underappreciated and underrated, even though it offered all of the features that many other tools do. Sure, it's latest version no longer supports legacy devices but its improved security and updated interface make it a solid password manager option. You can read more in its nomination thread here.
Have something to say about one of the contenders? Want to make the case for your personal favorite, even if it wasn't included in the list? Let us know in the comments.
#auto