The majority of raw data, particularly big data, doesn't offer a lot of value in its unprocessed state. Of course, by applying the right set of tools, we can pull powerful insights from this stockpile of bits.  
In any big data setup, the first step is to capture lots of digital information, "which there's no shortage of," said Dr. Michael Wu, chief scientist of San Francisco-based Lithium Technologies, which develops social customer experience management software for businesses.
With data in hand, you can begin doing analytics. But where do you begin? And which type of analytics is most appropriate for your big data environment?
In a phone interview with InformationWeek, Wu explained how descriptive, predictive, and prescriptive analytics differ, and how they provide value to organizations.
"Once you have enough data, you start to see patterns," he said. "You can build a model of how these data work. Once you build a model, you can predict."
[Big data makes one-to-one marketing even harder to achieve. See Real-Time Prediction, Big Data Scale: Impossible Dream?]
The first step: descriptive analytics.
In a March 2013 blog series on this topic, Wu called descriptive analytics "the simplest class of analytics," one that allows you to condense big data into smaller, more useful nuggets of information.
"Remember, most raw data, especially big data, are not suitable for human consumption, but the information we derived from the data is," Wu wrote.
The purpose of descriptive analytics is to summarize what happened. Wu estimated that more than 80% of business analytics -- most notably social analytics -- are descriptive.
"For example, number of posts, mentions, fans, followers, page views, kudos, +1s, check-ins, pins, etc. There are literally thousands of these metrics -- it's pointless to list them -- but they are all just simple event counters," he wrote in another post on the topic.
Predictive analytics is the next step up in data reduction. It utilizes a variety of statistical, modeling, data mining, and machine learning techniques to study recent and historical data, thereby allowing analysts to make predictions about the future.
"The purpose of predictive analytics is NOT to tell you what will happen in the future," Wu blogged. "It cannot do that. In fact, no analytics can do that. Predictive analytics can only forecast what might happen in the future, because all predictive analytics are probabilistic in nature."
In the most general cases of predictive analytics, "you basically take data that you have to predict data you don't have," Wu told InformationWeek.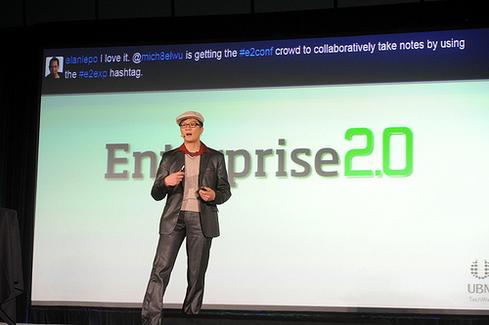 Michael Wu at Enterprise 2.0.

Sentiment analysis, for instance, is a common type of predictive analytics:

"The input to the model is plain text," Wu said. "And the output of that model is a sentiment score, whether it's positive, negative, or something between +1 or -1."

In this case, the model computes the score, but it's not necessarily predicting the future. Rather, it's "predicting data that we don't have, which is the sentiment label, whether it's a positive or negative sentiment," said Wu.

The emerging technology of prescriptive analytics goes beyond descriptive and predictive models by recommending one or more courses of action -- and showing the likely outcome of each decision.

"Prescriptive analytics is a type of predictive analytics," Wu said. "It's basically when we need to prescribe an action, so the business decision-maker can take this information and act."

He added that predictive analytics doesn't predict one possible future, but rather "multiple futures" based on the decision-maker's actions.

In addition, prescriptive analytics requires a predictive model with two additional components: actionable data and a feedback system that tracks the outcome produced by the action taken.

"Since a prescriptive model is able to predict the possible consequences based on different choice of action, it can also recommend the best course of action for any pre-specified outcome," Wu wrote.

For a deeper dive into descriptive, predictive, and prescriptive analytics, check out Wu's blog posts.

Jeff Bertolucci is a technology journalist in Los Angeles who writes mostly for Kiplinger's Personal Finance, the Saturday Evening Post, and InformationWeek.

Interop Las Vegas, March 31 - April 4, 2014, brings together thousands of technology professionals to discover the most current and cutting–edge technology innovations and strategies to drive their organizations' success, including BYOD security, the latest cloud and virtualization technologies, SDN, the Internet of things, Apple in the enterprise, and more. Attend educational sessions in eight tracks, hear inspirational and industry-centric keynotes, and visit an Expo Floor that brings over 350 top vendors together. Register for Interop Las Vegas with Discount Code MPIWK for $200 off Total Access and Conference Passes.

#auto