Five Best DVD Ripping Tools
16

Alan HenryFiled to: Hive Five
dvd ripping
DVDs
Blu-rays
Ripping
Backups
decryption
Encoding
Blu-ray ripping
rips
Blu-Ray
DVD
Downloads
Windows downloads
OS X Downloads
Mac downloads
Linux downloads
Free
Shareware
Utilities
Feature
Top
12/30/12 8:00am
Edit
Delete
Invite manually
Promote
DismissUndismiss
Block for lifehacker
Hide
Share to Kinja
Go to permalink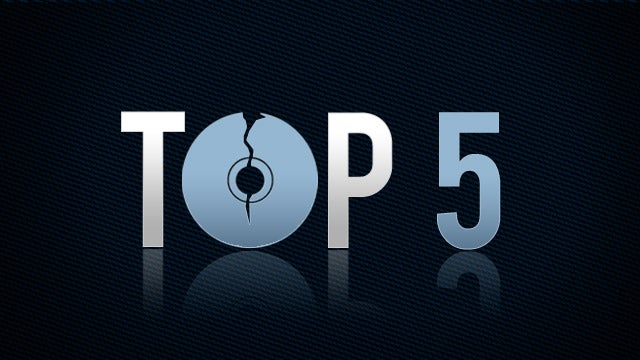 If you want to take your movies with you on the road, or just want to clean up those physical discs but keep your films and TV shows on your HTPC, you'll need to rip them first. Thankfully, there are plenty of great utilities designed to make the process easy and give you files that are playable on any device you choose, whenever you choose to watch them. Here are five of the best, based on your nominations. [jump]
Earlier in the week we asked you to tell us which DVD ripping tool you thought was the best. You definitely responded, and many of you pointed out that you use a combination of these tools to get exactly the file, format, quality, or encoding you want. Here's a look at the top five of your recommendations.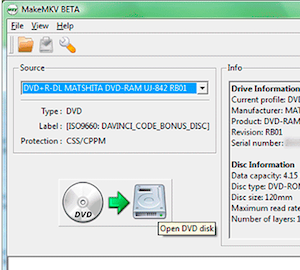 Advertisement
MakeMKV (Win/OS X/Linux)
We've praised MakeMKV before for its ability to quickly and easily rip DVDs and Blu-ray discs to high quality MKV files with a single click. The app has been in beta for a long time (years, in fact), which is just as well, since the developers promise to start charging for Blu-ray ripping once the app leaves beta. The app's strong suits are that it's fast, super easy, and cross-platform (the Linux version is available in the forums.) Plus, the app preserves all of the source disc's information, including tracks, chapters, HD audio, menus, and so on. The app is completely free.
---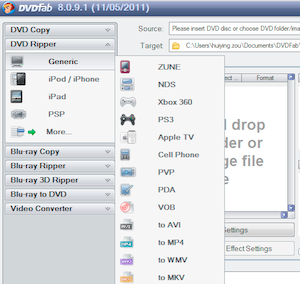 DVDFab HD (Win/OS X)
Many of you noted DVDFab's relatively recent move towards being Windows and OS X friendly and the fact that their stand-alone Blu-ray ripper is just as fast as their DVD ripper as more than enough reason for it to be the best. We agree—cross-platform support is a welcome addition, and we'd note that the app is frequently updated to cut through the copy protection on even the latest DVDs and Blu-ray discs (so make sure you're only ripping discs you own, okay?) To boot, the price is right: the app is shareware, meaning most features are free, including decrypting and ripping to your hard drive. Many of you note that you use another app for compression and authoring, but many of you say they hey, storage is cheap, and the rips from DVDFab are easy, one-click, and work. The app is shareware, so you can download it for free but additional features will cost you anywhere from $45 to $60 depending on what you want.
---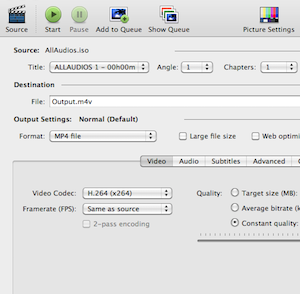 Handbrake (Win/OS X/Linux)
Handbrake is our favorite video encoder for a reason: it's simple, easy to use, easy to install, and offers a wealth of tweaking options to get the best possible file as a result. If you're daunted by them, you don't even have to use them—the app will compensate for you and pick some settings it thinks you'll like based on your destination device. So many of you like Handbrake that many of you use it in conjunction with another app (like VLC, which makes ripping easy)—you'll let another app do the rip and crack the DRM on your discs, and then process the file through Handbrake for encoding. The app is fast, can make the most of multi-core processors to speed up the process, and is completely open source. Best of all, it's completely free.
---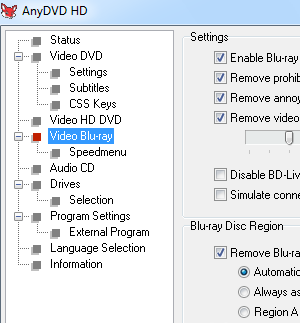 AnyDVD/AnyDVD HD (Windows)
AnyDVD (which rips DVDs only) and AnyDVD HD (which supports Blu-rays and HD DVDs) both earned high praise from you for being well worth their entry prices, and getting frequent updates to get around the copy protection that disc publishers include that make it harder for you to rip your own movies and play them on the devices you choose. The app can handle unwanted DRM, remove region restrictions, disables forced subtitles or delays, and even plays nice with DVD authoring tools if you're backing up your movies. You can try the app for free, but its features will cost you: AnyDVD is 49EUR ($65 USD) and AnyDVD HD is 79EUR ($105 USD).
---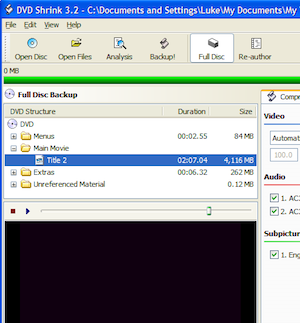 DVDShrink (Windows)
It's amazing how time flies. DVD Shrink halted development back in 2005, but it's still one of your favorite decrypting, ripping, and compressing utility. For many of you, you still use it in conjunction with another app, but for a good number of you it's still the go-to app to handle the job. It hasn't been updated since 2005, which means its support for newer discs is spotty at best, but when it does work, it works well and results in nice, tidy, small files that are great for portability. In fact, some of you called it out specifically for its compression, which many newer apps haven't been able to match. It's also super-easy to use, and completely free—and, according to the developers and site moderators, always will be. If you love DVD Shrink, you'd also love Lifehacker's own DVD Rip, developed by our own Adam Pash to work with DVD Shrink and make the ripping process as simple and painless as possible. That app is also free.
---
Now that you've seen the top five, it's time to put them to a vote to determine the all-out winner.

<a href=" ">What's The Best DVD Ripping Tool?</a>

An honorable mention this week goes out to DVD Decrypter, which missed the top five by a mere handful of nominations, but still was one of your most loved apps for ripping DVDs. The app has been around since 2005, and even though development was halted and the project shut down, mirrors like the one linked above carry on its legacy. As we mentioned earlier, a number of you use a combinations of the above, and many of you noted that you use DVD Decrypter in conjunction with another app for the best possible results.

Aside from that, most of you voted overwhelmingly for these five, and the nominees fell off pretty quickly afterward. Still, we know that a number of you have your own favorites that aren't represented above. Let us know what they are—and more importantly, why you think your pick is better than the community favorites—in the discussions below.

Have something to say about one of the contenders? Want to make the case for your personal favorite, even if it wasn't included in the list? Remember, the top five are based on your most popular nominations from the call for contenders thread from earlier in the week. Make your case for your favorite—or alternative—in the discussions below.

The Hive Five is based on reader nominations. As with most Hive Five posts, if your favorite was left out, it's not because we hate it—it's because it didn't get the nominations required in the call for contenders post to make the top five. We understand it's a bit of a popularity contest, but if you have a favorite, we want to hear about it. Have a suggestion for the Hive Five? Send us an email at tips+hivefive@lifehacker.com!

16320Reply

#auto