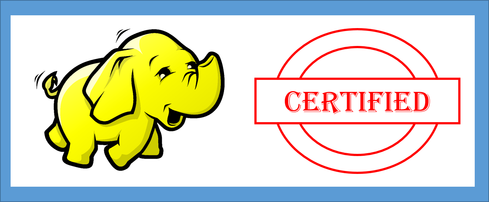 (Image: Apache.org)
Anyone who's worked in IT for more than a minute knows that the ability to keep up with fast-changing technologies can make or break your career. This is particularly true right now for anyone whose job involves working with applications related to big data, business intelligence, and business analysis.
Tech vendors typically offer a wide range of big data certification programs to help you master your use of their products and services. Conventional wisdom has it that developing your expertise and becoming certified in certain tools will help advance your own career.
But there are only so many hours in a day, and those hours include doing your day job. Deciding which big data vendor certifications are right for you to pursue can feel a bit like navigating a maze.
Vendors including IBM, HP, Oracle, EMC, and Cloudera are among those offering certification programs for IT professionals working with big data. Some are geared to folks working in the channel, or as consultants, while others are targeted toward the end user. We can't tell you which to choose -- that depends on a number of variables, including your position, the demands of your current work situation, whether or not you have access to tuition support, and what your long-term goals are.
What we can do is provide you with a selected list of the vendor certifications available.
On the following pages, you'll find details on various vendor certification programs, including what they offer, how much they cost, and what kind of letters you'll be able to put on your business card upon completion of the programs. Check out the latest big data vendor certification programs featured here, and let us know what you think.
Did we miss any that are crucial to working with big data? Have you pursued certification in any areas of IT during your career? If so, how has it helped you? If not, tell us why. We're waiting to hear from you in the comments section below.
#auto