Technology Lab —
Facebook launches project to open source hardware, designs for cell networks
Telecom Infra Project modeled on OCP; Facebook maps inhabited world with AI to plan rollouts.
Sean Gallagher - Feb 22, 2016 7:42 pm UTC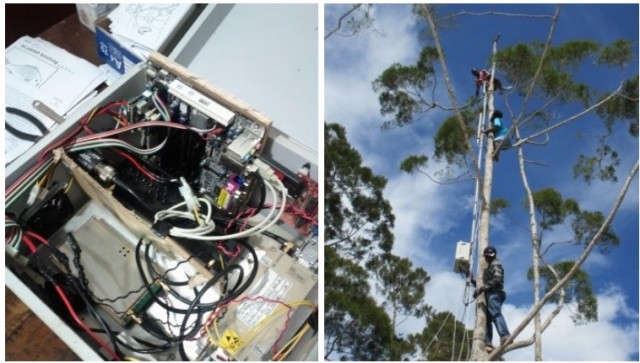 The open source "Desa" cellular network in a Papua, Indonesia village was set up by researchers from Cal Berkeley's TIER center. Facebook wants to spur the further spread of cellular networks to isolated communities through open source hardware contributed to its Telecom Infra Project.University of California at Berkeley - TIER

At the Mobile World Congress in Barcelona, Facebook announced the launch of a new open source hardware effort to extend cellular wireless service and hopefully accelerate the scaling up of telecommunications infrastructure and the development of new wireless broadband technologies, including 5G wireless. The program, called the Telecom Infra Project (TIP), is also working on providing currently unserved rural communities with wireless network efforts. A pilot 4G network is already underway in the Philippines, and Facebook has a project in planning for the Scottish Highlands.

Modeled on the Open Compute Project, which tackled data center computing and networking hardware, TIP already has 30 participating members (including a number of telecommunications and networking hardware providers alongside global and regional telecommunications carriers). TIP will focus on open designs for three areas of telecommunications hardware and software: access points, the backhaul network to connect them, and network core and management systems.

"We know from our experience with the Open Compute Project that the best way to accelerate the pace of innovation is for companies to collaborate and to work in the open," Jay Parikh, Global Head of Engineering and Infrastructure at Facebook, wrote in a post announcing TIP. "To kick-start this work, TIP members such as Facebook, Intel, and Nokia have pledged to contribute an initial suite of reference designs, while other members such as operators Deutsche Telekom and SK Telecom will help define and deploy the technology as it fits their needs."

The goal of TIP, Parikh said, is to create a set of open, interoperable pieces sold by multiple vendors that can be put together piece by piece rather than users acquiring the gear as a bundled, proprietary offering from a single vendor. If successful, TIP could drastically change the economics of deploying cellular wireless networks and accelerate the rollout of wireless services to areas that currently don't have them. "As the effort progresses," Parikh added, "TIP members will work together to accelerate development of technologies like 5G that will pave the way for better connectivity and richer services."

There have already been a number of efforts to bring open source software and commodity hardware to bear on providing wireless service to unserved communities. OpenBTS, an open source cellular infrastructure software project, released a fully open 3G cellular network stack in October of 2014. The OpenBTS software was used by the University of California at Berkeley's Technology and Infrastructure for Emerging Regions (TIER) research group to build a community cellular network in Papua, Indonesia in 2013, with a VSAT backhaul for SMS text messaging to the rest of the world. Other community telephony efforts, such as Puerto Rico's Coquitel, have focused on using open source Voice over IP (VoIP) technology with Wi-Fi based hardware such as Village Telco's Mesh Potato.

But the Facebook-led TIP effort is less focused on the grassroots and more on the major players—Facebook itself included. Cheaper, more open cellular network hardware would help Facebook reach even more of the intended audience of its "Free Basics" Internet service, making it more economically feasible for major carriers to build out infrastructure into less densely populated areas. It could also further disrupt the business of major networking providers such as Cisco and HTC.

In a related effort, Facebook also announced a mapping effort by the company's Connectivity Labs in collaboration with the Center for International Earth Science Information Network at Columbia University to help speed delivering wireless service to the 10 percent of the world's population currently without connectivity. Connectivity Labs researchers used machine vision, Facebook's image recognition technology, and artificial intelligence software to accurately map where people lived and calculate population density.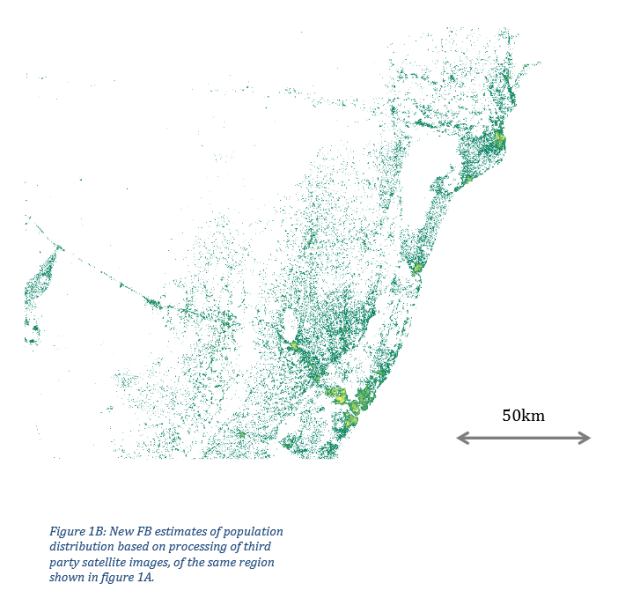 Enlarge / A population density analysis of coastal Kenya based on satellite imagery processed by Facebook's Connectivity Labs and the Center for International Earth Science Information. The data could be used to determine what type of wireless networking would be most effective to reach people in under-served areas.

"Defining the specifications of the technologies that we are developing first requires accurate information of how people are aggregated in these areas," wrote Tobias Tiecke, a Communication Systems Scientist at Facebook's Connectivity Labs, and Andi Gros, a Connectivity Labs Data Scientist, in a blog post describing the research. "For example, short-range access networks such as Wi-Fi hotspots are suitable for people living close together, while cellular technologies are better for regions where people live farther apart, in isolated houses. Additionally, knowing how communities are located in relation to one another is important for planning backhaul networks—the links to the Internet backbone. Villages lined up along a river or road could be connected by a string of terrestrial point-to-point links, while scattered settlements might require an aerial backhaul solution such as unmanned aerial vehicles or satellites."

The team input five-meter resolution satellite imagery from 20 countries, which was scanned by software for man-made structures. A machine learning system performed analysis on the mapping to calculate population densities based on census data. The resulting data could be used to optimize placement of wireless network infrastructure to reach the most people possible.

Facebook and the Center for International Earth Science Information Network plan to release the data set to the public later this year. The data could be used by governments in the countries mapped and by researchers for a number of geospatial data efforts, including emergency planning and socio-economic research.

Sean Gallagher Sean is Ars Technica's IT Editor. A former Navy officer, systems administrator, and network systems integrator with 20 years of IT journalism experience, he lives and works in Baltimore, Maryland. Email sean.gallagher@arstechnica.com // Twitter @thepacketrat

You must login or create an account to comment.

← Previous story Next story →

#auto